Board of Trustees

Michel Edde, Honorary President
Neemat Frem, Honorary President
Charles Hage, President
Rose Choueiri, Vice-President
Jacques El Kallassi, Platinum Member
Ramez Skaff, Ph.D., Treasurer


Michel Edde, Honorary President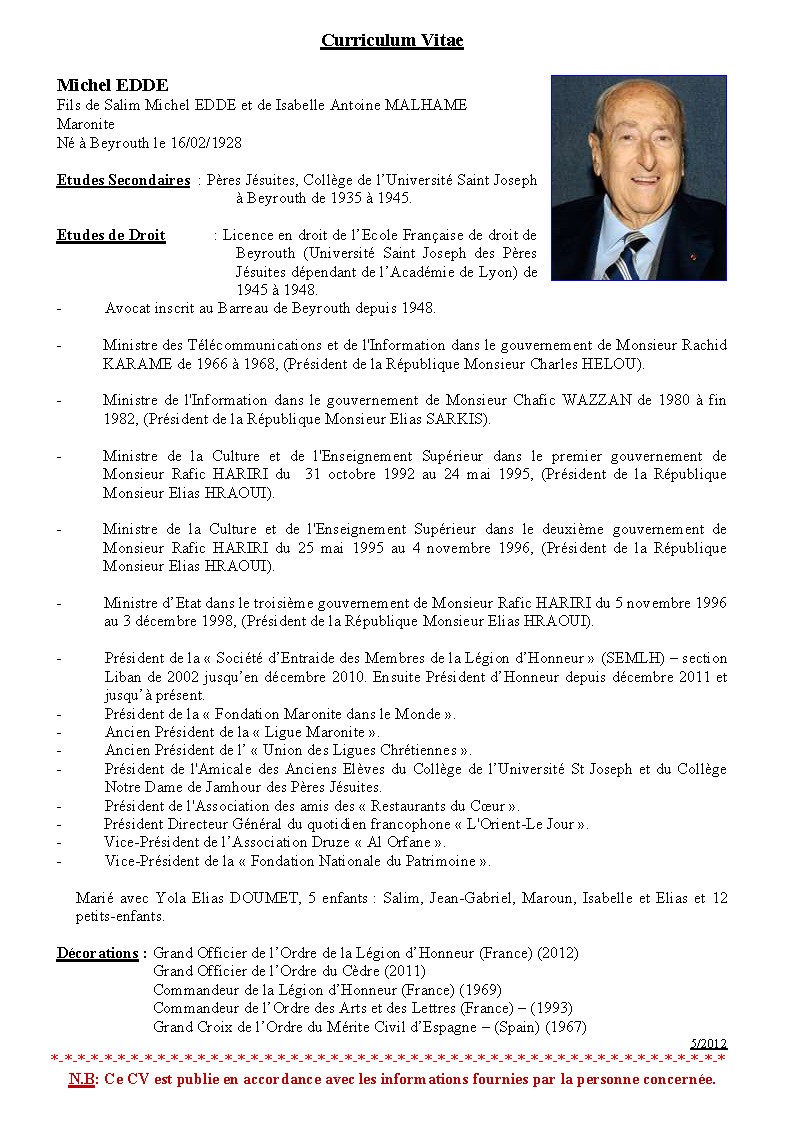 copy30_Michel Edde
+
Neemat Frem, Honorary President
Neemat Frem is President & CEO of INDEVCO Group, a Lebanese-owned and based multinational manufacturing Group employing over 9400 people worldwide.

Mr. Frem manages over 39 manufacturing plants and 21 commercial companies. Located in Egypt, England, Lebanon, Saudi Arabia and the United States; the manufacturing plants produce plastic, paper and corrugated packaging, tissue and consumer products, machinery and alternative energy sources.

He founded Phoenix Machinery in Safra in the late 1990s. A success story, the company has evolved from a machinery manufacturer into a high technology service provider that designed, built and transferred an energy-efficient biomass power plant in the U.S. Phoenix has since expanded with a sister company there, Phoenix Technology Holdings

He is a former President of the Association of Lebanese Industrialists (ALI). ALI is the official representative of the Industrial Sector in Lebanon. It focuses on developing, promoting, and nurturing the Industrial Sector and the industrial companies of Lebanon.

With a personal and corporate philosophy of "commitment to the community", he is the President of The Maronite Foundation in the World, a board member of many Islamic-Christian dialogue organizations, a board member of AUB Olayan School of Business Middle East Advisory Board, Young Presidents Organization, as well as other social institutions.

He has attended executive leadership and business programs at Harvard University, Georgetown University, and Stanford University. He holds a Bachelor of Engineering degree in Electrical Engineering from American University of Beirut (AUB).

Charles Hage, President
Mr. Charles Hage is the co-founder of Mada group, a multinational voice and data operator. Operating mainly in the Middle East and Africa. From 1992 until 1999 Executive director at MCI, the leading long distance carrier in the US.

Mr. Hage is an active member of various NGO's and charity organizations in Lebanon and abroad.

Rose Choueiri, Vice-President
Throughout the dynamic growth of Choueiri Group, in a world of rapid change, Mrs. Rose CHOUEIRI has always been a corner stone around whom all major decisions revolved.
As wife of the late Antoine Choueiri, she has provided support and counsel, personal and professional, for two generations of family and staff. She is the proud mother of Pierre Choueiri current Chairman and CEO of the Group, and of Lena Nahas current Vice-Chairman and Group CFO, and grandmother to their total of 7 children.


Mrs. Rose Choueiri is also a much-respected professional figurehead to more than 600 committed executives that market some 50 media vehicles across 9 markets in the MENA region; she has earned that respect. Her professional story is one of strong leadership. She has managed several of the Group's companies in Lebanon, while remaining in close contact with the whole group's operation through her role as board member.


Currently Honorary Chairman of Choueiri Group, she continues her involvement in the leadership of the Group's 11 subsidiaries.


Mrs. Rose Choueiri also devotes enormous time and energy into humanitarian, charitable and cultural associations. She is an Executive Member of the Lebanese Heritage Foundation, the Byblos Festival, the Auxilia Association and the Chronic Care Center, to name but a few. She also sits on the board of trustees of NDU University and the Maronite Foundation in the World. Last but not least, she is an honor member of Caritas.

Jacques El Kallassi, Platinum Member
Born in Chahtoul – Kesrouan – Lebanon in 1956 / Married – 4 children
Profession
Chairman of "Groupka Holding sal".
Groupka Holding is a major shareholder in several companies in Lebanon, Denmark and Eastern Europe, active in several sectors:
1- Production & trading of dairy products
2- Franchisee of fast moving consumer goods (Burger King & Applebee's)
3- Food business and production
4- Property development
Cultural & Humanitarian Activities
1- Member of the Board of Directors and General Manager "TeleLumiere" since 1990 and chairman "Noursat" since 2003.
Telelumiere / Noursat stations supervised by the Assembly of Catholic Patriarchs and Bishops in Lebanon and directed by a Committee involving religious leaders from various denominations and a group of laity eager to support this ecumenical mission.
These stations spread the Good News and promote love, peace and human values.
2- Member of the Board of Directors and General Secretary of the "Assembly of the Sons of the Church" an association with humanitarian and educational objectives such as food and clothing distribution to 200 needy families, offering 3 menus a day to 400 poor people and 2 rehabilitation centers for drug addicted and prostitution.
3- Member of "Saint Vincent De Paul" association – Saint Peter Conference – Chahtoul since 1988.

Ramez Skaff, Ph.D., Birmingham, AL, Treasurer
Ramez Skaff is currently the Executive Treasurer of Indevco Plastics. He is the former Executive Treasurer of Interstate Resources, Inc. Dr. Skaff managed the Legal, Benefits, Treasury, and Risk Management Departments of the company. Additionally, he served as Treasurer and Secretary to the Board of Directors.
Dr. Skaff has worked for INDEVCO Group since the early 1980s. Before moving to Interstate Resources, he was Group Controller for the INDEVCO Saudi Joint Venture. He has 30 years of experience in the paper and packaging industry. Before joining INDEVCO Group, Dr. Skaff held several executive positions at the World Bank.


Dr. Skaff also serves on the Board of American Friends of Al Younbouh, SESOBEL, Georges N. Frem Foundation, and American Fidelity.
New Members of the Board of Trustees:
(Joined in May 2015)

George H. BuAbbud, Ph.D., Boston, MA (Platinum Member)
Salim M. Sessine, P.E., Detroit, MI (Gold Member)

Anthony J. Asher, Cleveland, OH (Silver Member)
George R. Ayoub, D.D.S., Phoenix, AZ (Member at Large)
Abdo George Kadifa, Palo Alto, CA (Member at Large)
Philippe Ziade, Las Vegas, NV
Edward M. Salem, Los Angeles, CA (Honorary Member)
Philip A. Salem, M.D., Houston, TX (Honorary Member)
Anthony J. Asher, Cleveland, OH
Anthony Asher- Bio
+
George R. Ayoub, D.D.S., Phoenix, AZ
Dr. George R. Ayoub has dedicated his life to his faith, family, church and his country. He is involved in many community services providing leadership, mentorship and philanthropic efforts but not limited to his work with the church. Some of the community involvement includes:
Serving as a Chairman for the Festival Fundraising Committee at St. Joseph Maronite Catholic Parish of Phoenix, Arizona. This involvement is on a local, diocesan and international level
President of the Arizona Advisory Board, in which his obligation is to help provide advice for the Lebanese Council General in Los Angeles, California.

Member of the Board of Directors of Caritas Lebanon USA.
President, Treasurer and Founder of EKASS (Elias K Ayoub Scholarship Society).
Member of the Academy of General Dentistry in Arizona.

Dr. Ayoub has served and is currently serving many non-profit organizations where he enjoys being able to give back to the community but especially Lebanese-Americans and the American Lebanese. He has a lot of gratification in knowing that his efforts help many men, women and children of the general population.
George H. BuAbbud, Ph.D., Boston, MA
George H. BuAbbud received the Bachelor of Engineering degree Cum Laude from the American University of Beirut, Lebanon in 1976 and the Ph.D. degree in Electrical Engineering from the University of Nebraska at Lincoln in 1981.
Served UNL as assistant professor until 1985. Joined Exxon's Reliance Comm/Tec division, which became Reltec then merged with Marconi in 1999.
From 1999 to 2002 was Vice President and Chief Scientist at Marconi's Access Systems Division. Developed the innovative optical layer technology of Marconi's, AFC and Tellabs' widely deployed FTTC and FTTH systems.
Adjunct Professor at the University of Texas at Arlington from 1992 to 2002. Taught graduate courses in optical communication systems.
Vice President, Communications Products at IPG Photonics since July 2002. Responsible for global development, manufacturing, marketing and sales of optical communications solutions using IPG's world leading active fiber technology.
Holds 30 patents in optical communications systems and technology.
Co-founded and served as president of Hammana Scientific Association from1973 to 1975.
Serves as Board Member of USEK's Foundation in the USA.
Abdo George Kadifa, Palo Alto, CA
Mr. Abdo George Kadifa has been an Executive Vice President of HP Software at Hewlett-Packard Company since May 2012. Mr. Kadifa serves as the Chief Strategy Officer of Hewlett-Packard Company. He has been Head of The Hp Software Branch at Hewlett-Packard Company since May 2012. Mr. Kadifa is a Venture Partner at Arch Venture Partners, L.P. He joined Arch in mid- 2007 and is focused on information technology opportunities including software, enterprise applications, communications, infrastructure, electronics, networking and systems development.

Mr. Kadifa also lends his considerable expertise to portfolio executive teams, advising on strategy, product development, and execution. He works with MobileVerbs. He served as a Partner and Director, Value Creation at Silver Lake Partners. He joined Silver Lake in 2007. He served as Executive Vice President of Silver Lake Resources Limited until June 2012. Prior to joining Silver Lake, Mr. Kadifa served as the Vice President of Global Delivery at IBM Global Technology Services at International Business Machines Corporation, where he also had served as the General Manager of the company's Applications on Demand product area.

Mr. Kadifa joined IBM as a part of its 2005 acquisition of Corio, Inc., where he served as the Chairman, Chief Executive Officer and President since August 1998. He led Corio from its start-up in August 1999, to its initial public offering in 2000, to its sale to IBM in 2005. Prior to joining Corio Inc., from August 1992 to August 1999, Mr. Kadifa served as Senior Vice President of the Industrial Sector at Oracle Corporation, directing the company's largest and most profitable vertical sector. In addition, he served as a Management Consultant of Booz Allen Hamilton Holding Corporation. Prior to Booz-Allen, Mr. Kadifa served as a Development Manager at Xerox, leading strategic initiatives and software development, along with obtaining two United States patents in operating system and user interface software and receiving the Xerox Inventor award. Mr. Kadifa started his career on the research staff at Fairchild Semiconductor. He served as the Chairman of Serena Software, Inc. since February 23, 2012. He served as the Chairman of Corio, Inc. He has been a Director of Serena Software, Inc., since March 2010.

Mr. Kadifa served as a Member of Advisory Board at Orsyp S.A. He served as a Director of Univa, Inc. He served as a Director of Application Security, Inc., since December 2008. He has spent his 25-year technology career serving in chief executive and other senior management positions as well as in management consulting, research, and development in software and applications, communications, electronics and instrumentation.

Mr. Kadifa holds an M.B.A. from the Graduate School of Business at the University of Chicago, an M.S. in Electrical Engineering from the California Institute of Technology, and a B.S. degree in Electrical Engineering from the American University of Beirut.

Source: Business Week
Salim M. Sessine, P.E., Detroit, MI
Salim Sessine, was born in Lebanon and immigrated to the United States in 1980. Salim received a Master's of Science Degree in Mechanical Engineering from Wayne State University and pursued a career as a Consulting Mechanical Engineer.

Mr. Sessine is currently the Owner/President of MA Engineering. He also belongs to St. Mary's Orthodox Church, Livonia, Michigan and is involved with St. Jude Research Hospital, Michigan Chapter. Salim was a Board Member with Auxilia Foundation. Salim currently resides in the West Bloomfield area with his loving family.
Philippe Khalil Ziade, Las Vegas, NV
Philippe Ziade graduated with dual degrees in Civil and Mechanical Engineering. Now as CEO and Founder of Growth Holdings, a conglomerate of companies, creating a full-service real estate development and management operations, Ziade has set out to create something unique. His objective was to lead with profitability and shift the paradigm in his field, blending business acumen with investment knowledge, talent with creativity, and innovation with inspiration. Ziade has developed a singular vision: to balance both the art and science of business.


Mr. Ziade is the CEO and Founder of Appleton Properties into one of the most prominent and successful privately owned Real Estate Investment Companies in Las Vegas. Ziade's firm quickly developed a reputation for building wonderful commercial projects while making sound Investments, Sales, Acquisitions, and Development. His knowledge and his reputation remain true today as evidenced by his awards of achievement and combined 30 years of experience.
Ziade is the CEO and Founder of Growth Luxury Homes. Ziade is building the next generation of ultra-luxury homes— today. Growth's mission is to revitalize the homebuilding process by bringing cutting-edge technology and smart-home automation with maximum energy efficiency, all without jeopardizing beauty or design. Ziade expends Growth Luxury Homes brand with over 64 new projects through the Las Vegas Valley, with award winning designs, ranging from $2.7 million to over $20 million.


Ziade is also President of Progressive Construction, Inc – DBA Growth Construction, founded in 1993 throughout New York City, which is a dynamic, multi-million dollar General Contracting/Construction Management firm known for providing innovative solutions to construction projects of all sizes and types. Their projects consistently meet budgets and schedules while exceeding the expectations of their clients and their team of highly-qualified professionals are dedicated to providing their clients unsurpassed service. Progressive Construction's client list ranges extensively from Four Seasons Hotel, Ashbury Capital, JPMorgan Chase, New York Public Library, The Lombardy Hotel and Trump International Hotel & Tower, just to name a few.


Ziade is the Founder and CEO of Incloud – a real estate cutting edge software/platform- where the art of real estate meets the science of success. The program uses data and technology to create a competitive advantage and optimize performance. It is a centralized web-based transaction management platform that intersects people, knowledge, and tools with processes that allow you to outperform your competitors and deliver results. The software will revolutionize the way that real estate professionals, investors and even hedge funds are able to do business.


Ziade is the Founder and CEO of Unibuilder – a comprehensive and fully integrated web-based construction management and service work order solution. Unibuilder offers the best in easy to use and affordable Service. Where the art of construction meet the science of success.


Ziade, also co-founded Ferraro Marble Group in 1999. The group grew to be a worldwide importer and nationwide fabricator and installer of natural granite, marble, limestone, ceramic and porcelain products. Servicing and overseeing large scale residential and hotel projects, with a list of clientele to include Encore at the Wynn Hotel, Cashman Center, Forum Shops at Caesars Palace, Turnberry Towers, and Marnell Corrao just to name a few.


Ziade, born in Lebanon, believing that culture and community are the foundation of his roots, Ziade with the support of the Consulate General of Lebanon, has launched the "Invest to Stay Program" on September 19, 2014, in Los Angeles, California in the presence of Gebran Bassil, Minister of Foreign Affairs and Emigrants of Lebanon. The goal is to create viable investment opportunities that promote sustainable growth and financial stability to elevate the Lebanese community and stimulate the economy.


Through his sound strategic leadership, Ziade will develop opportunities along with the partnerships of the Lebanese Ministry of Foreign Affairs, the Consulate General of Lebanon in Los Angeles and a carefully selected Board of Directors.


Ziade's memberships and awards include: ASME (American Society of Mechanical Engineers), Tau Beta Pi (The Engineering Honor Society)Ziade was recognized by The Wall Street Journal and Real Trends, Inc. – Top 1000 real estate professionals in the US, Ranking Number 46 with 269 Transactions closed in 2011. In 2012, with a shortage of inventory, Ziade was able to exceed last year's performance and increase his overall volume by closing a total of 420 transactions to rank #13 on the list nationally, and #1 in Nevada for both number of transactions and dollar volume.
Ziade is "Ranked #1 real estate professional nationally by Better Homes and Gardens magazine." The Greater Las Vegas Association of Realtors (GLVAR) and its Young Professionals Network of Las Vegas (YPN) announced Philippe Ziade of Vibrant Realty is a winner of their "Top 40 under 40." The award acknowledges Real Estate Professionals under the age of 40 who demonstrate excellence in their careers and service to their community and to the real estate industry.


Ziade is well known and has been featured "IN AMERICA with James Earl Jones" a new educational commercial segment broadcasted on primetime in over 84 million homes via MSNBC, CNBC, CNN networks. Ziade's educational segment, as a top leader in the real estate industry, has aired 400 times in many of the top 100 Direct Marketing Areas during peak and prime time on networks such as CNBC, CNN, CNN Headline News, Fox Business Network, The Learning Channel, Family TV, and the Discovery Channel.


Ziade travels the world, sharing his insight on real estate investing and development, with his latest seminars at Bloomberg Japan… Connecting decision makers to a dynamic network of information, people and ideas, Bloomberg quickly and accurately delivers business and financial information, news and insight around the world.


Ziade, featured on ZUU online as the "Las Vegas Real Estate King". ZUU online is a Tokyo-based financial media that provides original insights on financial market news, the latest business trend and personal finance advice. Our commitment is to provide the most current information to help you make smarter money decisions.


At the same time, Ziade's growing family likes to make a difference in the community in which they live by getting involved in positive women's and children's charities by giving back their time and support. Ziade was recognized by The United Way's Tocqueville Society, Ziade's support and donations are helping United Way to change lives through philanthropic leadership focused on the building blocks for a better life: a quality education that leads to a stable job; income that can support a family through retirement, and good health.
Edward M. Salem, Honorary Member, Los Angeles, CA
Edward M. Salem left SMC after serving six years as Director, Change Management in the Program Management Integration Directorate, Space and Missile Systems Center (Air Force Space Command), Los Angeles Air Force Base, California.


Mr. Salem had been in the Federal Service continuously since 1972. His service includes having been a Loan Officer with the Small Business Administration, Chief, Advertising and Sales Promotion and Public Affairs Officer, U.S. Army Recruiting Command, Des Moines, Iowa. Arriving at Space and Missile Systems Center in 1985, he has been Command Speech Writer, Chief of Community Relations, Deputy Director, Commander's Action Group, Deputy Director, Directorate of Strategic Planning, Director of Strategic Planning, and Acting Director and Deputy Director, Plans and Programs. He has been awarded the Exceptional Civilian Service Medal and the Meritorious Civilian Service Medal as well as several Letters of Commendation. Among his many projects, he has managed the Center's Base Realignment and Closure Commission efforts, the Quality Air Force Assessment, the base renovation and revitalization program, and effort to deploy a knowledge management instance, managing change in the organization through business process engineering and reengineering and the development and training of a workforce to replace an aging, soon to retire, workforce. Mr. Salem retired from active federal service in February 2005, and returned to duty under the reemployed annuitant program in January 2006. Non-government experience includes consulting for Pioneer Hybrid Seed, Des Moines, Iowa, Osmotik, Inc, Leonie Industries, and professional practices of medicine, dentistry and law on market positioning.


Among his many community activities are activities with his church on a local, diocesan and international level. He provides counseling and mentoring to men and women both at SMC and in the local communities. Among his awards are the Meritorious Civilian Service Medal and the Exemplary Civilian Service Medal and the Distinguished Career Medal. He has been active in groups sponsoring educational events to perpetuate the Lebanese heritage among immigrant communities around the world. In May 2000, he was recognized with the Ellis Island Medal of Honor. He is most active in the Maronite Catholic Church. He currently serves as Chairman of the Board of Directors of the International Maronite Foundation, a religious, educational and humanitarian foundation seeking to perpetuate the traditions of his church and culture. He also serves on the boards of directors of many non-profit and profit corporations. In January 2014, Mr. Salem was recognized for his lifetime of achievement as a visionary leader by the National Apostolate of Maronites. He was also recognized by Pope Francis I with the highest award granted a lay person, Pro Eccllesia et Pontifice (For Church and Pope).

A native of Des Moines, Iowa, Mr. Salem is a 1965 graduate of Drake University, Des Moines, Iowa. He is married to Samia Ayoub, and has two children, Christopher and Nicole. They reside in Orange County.
Philip A. Salem, M.D., Honorary Member, Houston, TX
Dr. Philip A. Salem, physician, researcher, educator and international statesman in cancer medicine, serves as Director Emeritus of Cancer Research at St. Luke's Episcopal Hospital in Houston and is the President of Salem Oncology Centre. Prior to his appointment at St. Luke's, Dr. Salem served on the faculty of M.D. Anderson Cancer Center as professor of cancer medicine and research. In March 2010, St. Luke's announced the establishment of a cancer research chair in his name to honor his contributions to cancer medicine and as "a lasting tribute to his leadership and vision in the field of oncology".
Dr. Salem is the recipient of many awards from all over the world for his contributions to cancer research. In the early 1970's he was one of the first researchers to demonstrate that a chronic infection in the intestine may eventually lead to the development of cancer. His work on Immunoproliferative Small Intestinal Disease (a form of intestinal cancer), and the relationship between infection and the development of intestinal cancer has become a classic in modern medicine.
He is an active member of the top three cancer organizations in the world: American Society of Clinical Oncology (ASCO), American Association for Cancer Research (AACR) and European Society of Medical Oncology (ESMO). In the last 15 years he was selected annually in the editions of America's Top Doctors by Castle Connolly. Because of his stature and impact on cancer research, he was invited to serve on the editorial boards of several prestigious cancer research journals.
Besides his contributions to medicine, Dr. Salem has made major contributions to America. In the early 1990's he served on a healthcare advisory committee to the White House. In 1994 he received the Republican Senatorial Medal of Freedom, and in 1998 he was awarded the Ellis Island Medal of Honor for his "exceptional humanitarian efforts and outstanding contributions to American science". In 2006 he was honored as 'The Scientist of the Year' by the National Italian Foundation for the Promotion of Science and Culture, and he was decorated in a special ceremony held in Rome, Italy.
Dr. Salem is a renaissance intellectual and writer. He is the author of many editorials on Lebanon and he has published extensively on Arab affairs. In the year 2000, he was awarded the Khalil Gibran International Award by the Arabic Heritage League in Sydney, Australia. In May 2000 he was selected the 'Arab American of the Year' by the Arab Community Centre for Economic and Social Services (ACCESS) in Dearborn, Michigan. On July 1, 2010 The Lebanese American University in Lebanon bestowed upon him an Honorary Doctorate in Humane Letters for his "contributions to medicine, Arabic literature and philosophy". For the same reasons, another Honorary Doctorate in Humane Letters was bestowed up him by the Notre Dame University of Lebanon on July 12, 2013
Five books have been published about Dr. Salem: In July 2004, a book in Arabic entitled, "Philip Salem - The Man, The Homeland, The Science", authored by Peter Indari, an Australian journalist, was launched. In December 2012 a book in English entitled "Cancer, Love and Politics of Hope - the life and vision of Philip A. Salem M.D." authored by Frances Mourani and Boutros Indari was published by Quartet Books in London. In January 2013, a book in Arabic entitled "Philip Salem the Rebel, the Scientist and the Humanist". Authored by Maha Samara, a Lebanese journalist was published in Beirut by Dar Al Saqi and Dar Annahar. In July 2014 a book entitled: " Philip Salem: Healing the body, Healing the Soul" by Antoine Noujaim was published in Beirut, Lebanon. In November, 2014, A new book entitled " Philip Salem: by their Pens", Edited, by Assaad Khoury, published in Beirut, Lebanon.